Tales of the 35th Civil Engineering Squadron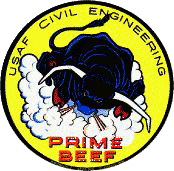 This is the emblem of the Base Engineer Emergency Force. We were trained in various emergency procedures, none of which I can remember.
We got to go to Florida once to build an airfield in a swamp. We were attacked in the night by the instructors and were all captured. It rained a lot. We ate all our rations and ran out of food. Ron and I found a speedboat hidden in the bushes. Probably beached by smugglers! LATER (2009) All these years I thought it was Eglin AFB we went to, but today I figured out it was probably TYNDALL AFB, since it is, in fact, the civil engineer headquarters is located there! Well, it IS just down the road...

I hereby swear that I didn't erase the wiring schematic on that transformer that burned up! I also swear I thought that sewage treatment plant motor was 440 volts...

Some favorite guys I knew:
Sgt. John Lasne
MISTER Darryl Griffin
Sgt. Robert Verley
SSgt. Ron "No, he's not really Santa Claus" Frankenburger
Paco the aircraft fixer from Mississippi
Francis Higginson Mackay-Smith
Bob (Wombat) Glass
Dan (TT) Phillips
One time I was ordered to take a detail and remove a refrigerator from a room on the second-story of a barracks. I asked if they cared how I got it down. They said, well, no... Not wanting to haul it down the stairs I told the guys to toss it over the railing. BANG!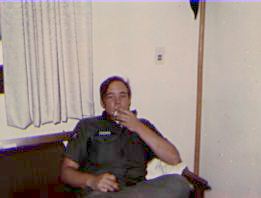 "Cooling it..."

"On 1 October 1971, the 35th Tactical Fighter Wing activated at George Air Force Base, California, where it replaced the 479th Tactical Fighter Wing. Once at George, the wing took over the mission of training F-4 flight crews. In July 1973, with the arrival of F-105 aircraft, the wing began training aircrews for "Wild Weasel" (radar detection and suppression) missions in addition to other F-4 training.
By 1975, with the arrival of new F-4C aircraft, the wing was training aircrews exclusively in "Wild Weasel" operations for deployment to operational units in Okinawa and Germany."
Snagged from the Wing history.
---
There is a George Air Force Base group at Yahoo Groups. Just sayin'...

---
Wanna go back to the Table Of Contents? Click here...I mean there -->
---
Original Material Copyright 1998, 2009 Tropical Serpants
---
Want to contact me about something?
---