Motorcycles I Have Known
Yamaha 650.
Modifications: Disk brake, flame pinstriping, solo seat and pillion, sissy bar. Sweet...

What it was when I bought it. My brothers apparently were thrilled!!


Hodaka Ace 100. Where did this picture come from?? Go back to your own page!


Notice the shorty mufflers on this one. They looked good, but they were WAY too loud! The sissy bar has been changed for one made out of square stock.

Dan Edwards riding the Yahama in a TT race at the racetrack in Adelanto. Notice the high-tech wire screen protecting the engine from rocks thrown up by the fenderless front wheel.

Kawasaki 175. A sweet ride, even my wife liked to ride it. Got stolen in Adelanto. They left the Yamaha that was sitting right next to it, unlocked...


Matchless 500 I purchased for some ridiculous amount, paid an obscene registration fee as it had tickets on it, only ran once, and poorly at that, sold dear as I had to get rid of it.

Honda XL250 I had for a few years. It was stolen when it broke down one day and some kids stole it. Got it back a year later, but a footpeg bolt was broken off in the frame, and I a bolt remover off in that... Sold it for a pittance to a couple of guys from Imperial Beach.

Total Dream Bikes I Wish I Owned!!
Feel free to buy me one of these!

This is from a British magazine. This is a Vincent in a custom frame.

This is a 1968 Royal Enfield MK1A Interceptor 750 from Robins Classic Bikes page. When I was a teen the guy up street would ride by on his, sweeping around the corner and up the hill, the exhaust booming! God, I get weepy thinking about it.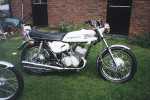 This is a Kawasaki 500 from Swedish Kawasaki Triples Club page. "Kurt Andersson of Eksjö, Sweden, owns this flawless 1969 H1." I got to ride one of these once. Scared the crap outa me, the power comes REAL quick!

This is a 2000 Buell Blast. It is a 492cc thumper. Image is from an article on Motorcycle Online .


This is a Merlin Roadster. Image is from the Corbin Motors website. .

This is a Honda GB500 500cc thumper. Image source unknown.

This is a Yamaha SR500. The image was credited to Adam Trewin and is from The Thumper Page .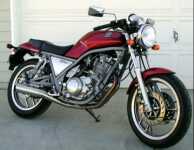 This is a Yamaha SRX500 600cc thumper. The image was credited to Kevin Haywood and is from The Thumper Page .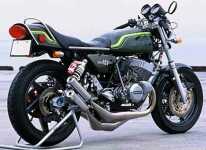 This bad boy looks like a Kawasaki H2 750cc triple. Image source unknown.

Other Interesting Bikes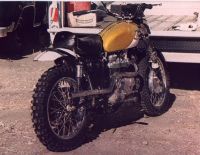 This Triumph and the DKW below are from the book "Motorcycles" written and photographed by Ed Radlauer, published and copyrighted by BOWMAR 1975, 1967. Check out the knobbies! What a fine trail-riding machine!

This DKW has a leading link front suspension that "floats" over the bumps. Check out the radial head fins.

---
Wanna go back to the Table Of Contents? Click here...I mean there -->
---
Original Material Copyright 2000, 2005, 2007 Tropical Serpants
---
Want to contact me about something?

---